Blind at birth, Como Zoo's newest snow leopard is using her other four senses to explore her new world
One of the most anticipated new arrivals at Como Zoo, the seven-pound female snow leopard born on May 6 is taking her time getting acquainted with her new world. Like all snow leopard cubs, spending quality time with her mother is crucial to getting a good start in life.
"With snow leopards, the father is involved in the breeding process, and then he is actively pushed out of the environment in the wild,'' explains Como Zoo keeper Hans Jorgensen. That's why Como visitors may notice that father Moutig is almost always outside in the snow leopards' public habitat, while mother Alya has been behind the scenes, nursing and bonding with her newest cub. "Alya's an excellent mother, and with this cub, she's 100 percent invested."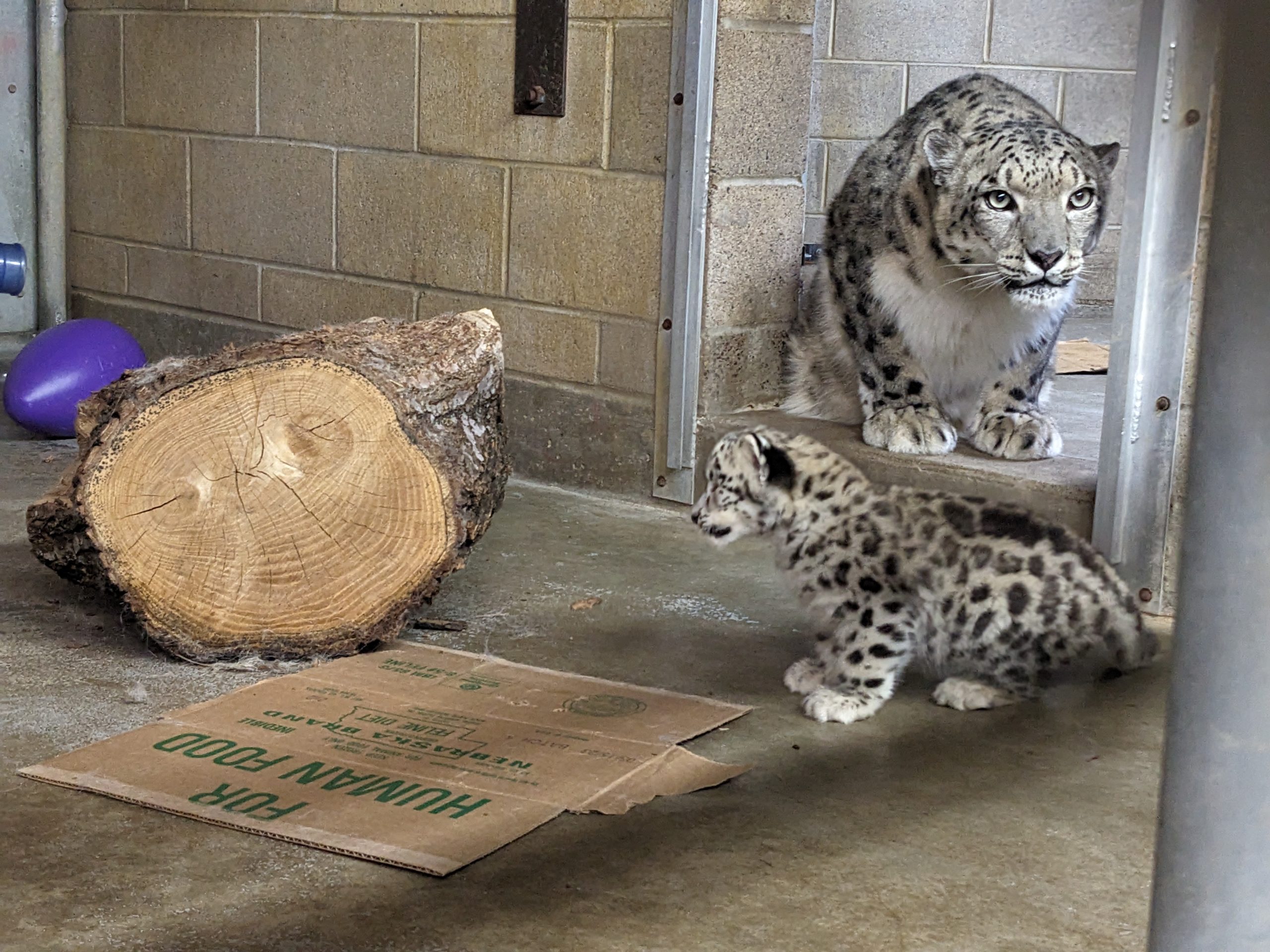 Alya's fierce pride and strong maternal instinct are also providing keepers a hopeful sign of the long-term health prospects for the new cub, who was born with a set of eyelid abnormalities that keepers noted at her birth. Veterinary ophthalmologist Dr. Melissa Lively recently confirmed the diagnosis as Multiple Ocular Colobomas—a lack of retinal and other eye tissue—a permanent condition that can't be reversed or repaired. "She will be blind the rest of her life," Lively explains. "But because she's never had vision, she's never known anything different, and she'll be able to do everything a normal snow leopard cub could do. We know that cats are fantastic at using their touch, their hearing, and their sense of smell to explore their habitat and run zoomies just like a visual cub would do. In the wild, this cub would not survive moving through vast environments without being able to see where prey is coming from, but in this zoo setting blind cats can thrive. Especially with all of the great care they get at Como Zoo."

While the young cub may need surgery in the near future to prevent infection and other complications, lack of vision is unlikely to impair the longevity or welfare of the young snow leopard, now about eight weeks old and about as many pounds.
Moutig
Alya
"Baby and mom are doing great, and I don't even know if Alya can tell that her cub has no vision," says Jorgensen. "Six weeks is the point where snow leopard cubs start to get super active, and though she's blind, she's very mobile and seems to love exploring." 
An eager eater, the young cub is also busting her way through the baby growth charts. "She's a milk-drinking machine," Jorgensen says proudly.
While she's hitting all of her developmental milestones, her keepers are also being mindful about ways to make her as comfortable and curious as possible as she grows into her new home. "Milestones for her agility might be pushed back a little later as she figures out the geography of her habitat," he says. "There might be some accommodations we'll make for her, things we'll need to be aware of in terms of keeping her environment very consistent.'' 
As part of Como Friends' Sunset Affair fundraising gala this month, the winning bidder in the event's silent auction will have the chance to select a name for the new cub that captures her native curiosity and fighting spirit. 
"She's getting fluffier by the day and her claws and paws are gigantic at this point," says Jorgensen, who's gotten accustomed to being scratched, clawed and peed on every time he scoops the new cub up for vet care and occasional weigh-ins. "It's all in a day's work, but it's also a big deal to have a new snow leopard cub. Once we could see mother and baby were doing well together, there was a big sigh of relief, and now we're just enjoying how unbelievably cute they are together."